Sometimes, it's difficult to stop overthinking, but if you keep doing it, you will drive yourself insane.
This is even true if you find yourself overthinking your partner's infidelity,
Your mind doesn't rest, your heart beats fast, and you find yourself crying for reasons that aren't clear even to you.
You're heartbroken. And you don't know what to do next.
You've just been cheated on by someone you thought you could trust.
Negative thoughts overwhelm your mind, and you wonder how to stop overthinking after being cheated on.
Being cheated on is no joke, and most people find themselves overthinking.
The good news is that you can stop!
Here are a few tips to help you stop overthinking about being cheated on:
HOW TO STOP OVERTHINKING AFTER BEING CHEATED ON
1.Understand that overthinking is a natural response to feeling overwhelmed and stressed
It's very normal to overthink after you are cheated on.
It's a way of trying to regain control over a situation that feels out of your hands.
You have many questions on your mind begging for answers.
However, it is important to find ways to cope with these emotions in a healthy way.
One way to do this is to distract yourself with other activities.
For example, you can try reading, running, skating, trying new recipes, going for walks, or listening to music.
2. Overthinking solves nothing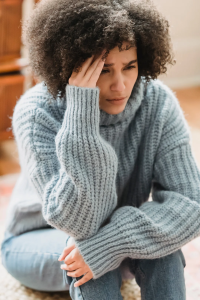 Remind yourself that overthinking will not change the past or future; it will only make you feel worse in the present.
You cannot control everything, and some things are out of your control.
Make a decision to let go of what is out of your control and focus on what is within your power to change.
3. Discover the reasons behind your partner's infidelity
Don't make assumptions about why your partner cheated on you.
Cheating is a betrayal of trust, and it causes pain, anguish, and anger.
Infidelity is never easy to deal with, especially when there's no obvious reason why your partner strayed in the first place.
Don't jump to conclusions until you know all of the facts surrounding their actions.
If you find out your partner has cheated on you, find out why they did it and what caused them to do so.
There are many reasons for infidelity, which include:
– a lack of emotional intimacy (the couple doesn't talk about how they feel)
– poor communication skills between partners
– lack of trust between partners (one or both partners don't trust each other)
-sexual dissatisfaction
-boredom
Some people also cheat because they want more attention from their partners; others cheat because they don't feel appreciated enough in their relationships.
Some people cheat because they feel like their needs aren't being met, and some people just want to have fun without being tied down by anyone else.
4. Give yourself time to mourn the loss of the relationship 
It's okay to feel sad and angry after being cheated on.
It's called being human.
However, try to avoid dwelling on what could have been or "what if" scenarios.
Instead, focus on how you can move forward and make the best of the situation.
5. Learn to forgive yourself and your partner
Life is full of ups and downs.
No one is perfect, and we all make mistakes.
But sometimes, we make mistakes that are not easily forgiven or forgotten.
The worst thing you can do after being cheated on is blame yourself for what happened.
You might feel like this was your fault or that you could have stopped it from happening if only you were a better person or loved them more than anything in the world.
It's important to remember that no one is to blame for cheating but the cheater themselves.
They made the choice to betray their partner's trust — not you or anyone else.
One of the best ways to stop overthinking after being cheated on is to forgive and make efforts to move on.
This doesn't mean you have to forget what happened or pretend it didn't hurt you.
But forgiving your partner for cheating means that you let go of the anger and resentment you have built up over time towards them.
6. Get counseling or join a support group for people who have been cheated on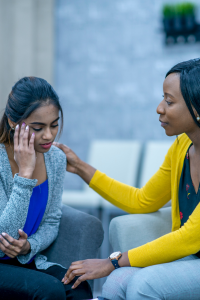 If you find yourself thinking about the affair over and over again, or if you are having severe mood swings, you're likely dealing with depression caused by your lack of closure.
A therapist will be able to help you deal with these issues in a safe, controlled environment and make sure you get the help you need.
You can also join a support group for people who have been cheated on.
This is a good way to find other people who are going through the same thing as you, and they may have different tactics that worked for them that they can share with you.
This is also an easy way to meet new people and make friends if your old friends were friends with your ex.
7. Work on getting your self-esteem back
After being cheated on, it's common to feel like you're not good enough for anyone else — especially your ex-partner.
So, a big part of feeling better after being cheated on is regaining your self-esteem.
You might not be able to do this overnight, but you must work towards it so that your partner's infidelity doesn't have a lasting effect on how you view yourself.
Take steps to build up your confidence so that you don't rely on other people for validation.
Read books and listen to podcasts on rebuilding self-esteem.
8. Practice mindfulness
Mindfulness is the practice of being present in the moment and focusing your attention on your thoughts, feelings, and sensations without judgment.
This can help you to accept what has happened and let go of any negative thoughts or emotions that are holding you back.
Additionally, mindfulness can help you to focus on the present and take steps towards rebuilding trust in yourself and in your relationships.
9. Identify your triggers
What are the things that trigger your overthinking?
Is it seeing your partner talking to someone else?
Hearing a certain song?
Identifying your triggers will help you know when you're starting to overthink.
10. Focus on yourself
Be sure to focus on taking care of yourself emotionally and physically.
This may include exercise, relaxation techniques, and eating a healthy diet.
Taking care of yourself will help you feel stronger and more capable of dealing with difficult situations.
After being cheated on, it's normal to spend a lot of time thinking about what happened and figuring out what you could have done differently.
However, overthinking can be counterproductive and make it harder to move on.
Apply these ten tips and give yourself time to heal, and you'll find yourself not overthinking your partner's unfaithfulness as the days go by.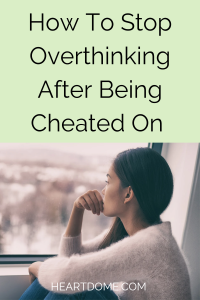 READ MORE
WHAT MAKES A MAN COMMIT AND FALL IN LOVE : 12 THINGS THAT MAKES A MAN STAY WITH YOU
HOW TO GET A MAN EMOTIONALLY ATTRACTED TO YOU